Competitive Volleyball League
Info for 2020 Fall Session
Hosted by Skyline Juniors
---
Fall League
A perfect blend of competition and training. 2-hours per week of team practices and at 8-10 game (5-week) league and an end-of-season Tournament. This is a great training and a great opportunity to get to know our Skyline staff!  You may signup as a team or come to one of our Tryouts to get placed on a team. You may provide your own coach or Skyline can also provide a coach for your team!!!
---
Fall Dates: Updated May 28, 2020
Fall Individual Tryout Date:  Sun, Aug 30, 2020 @ 4pm
Fall Team Registration Deadline: Fri, Aug 28, 2020 @ 5pm
Fall Duration: Sept 12 – Oct 24
Week 1: September 12
Week 2: September 19
Week 3: September 26
Week 4: October 3
Week 5: October 17
Tournament: October 24 (9am start)
---
Fall Pricing:
$300 per Athlete (with Skyline Coach)
$250 per Athlete (if you provide coach)
Includes: 2 hour of practice per week (TBA)
Includes: 5 week competition schedule plus tournament (Plano Volleyball Assoc. league)
Includes: T-shirt Jersey
Option: Skyline Coach for practices and matches
Excludes: Uniform other than t-shirt jersey, kneepads, shoes, spandex
Excludes: Training Clinics are not offered.
---
Team & Individual Options:
Team Registration: If you already have your team (or most of one), just fill out the "Team Registration Form" below and turn it in before the deadline
If you do not have a team: If you would like to play in the league, but do not have a team, we will hold an tryout and place individuals on teams with Skyline coaches. More information about the tryout dates and times are below. Please note that not all players will be placed on a team. Tryouts and team placement will take play prior to the team registration deadline. We only offer tryouts for the Summer I, Summer II, and Fall sessions.
---
Individual Registration
Individual Tryouts for this Fall on Sat, Aug 29, 2020 @ 2pm
We accept Pre-Formed Team only in the Fall
Put together your team and fill out the form to the right.
Provide your own coach OR request Skyline to provide a coach for practices & league play
---
Team Registration
Payment of $300 per athlete is required at the time the form is turned in ($250 if you provide your own coach).
You may have as few as seve (7) and as many as twelve (12) athletes on your roster.
Fall Team registration deadline: Fri, Aug 28, 2020 @ 5pm
Team practice times are flexible and we will take requests
2020 Fall Team Registration Form coming soon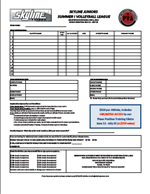 ---
League Divisions:
Plano Volleyball Association Competitive Volleyball League.
Matches will be played on Friday evenings.
Each team will usually play 1 to 2 matches on day of play (8 within 6 weeks)
Divisions (Grades 4rd-8th)
8th Grade Divisions 1 & 2
7th Grade Divisions 1 & 2
6th Grade Division 1 & 2
5th Grade Division
4th Grade Division
---
Practices:
Practices Begin the week the league begins
Practices Days: we have practice times available Sundays-Thursdays. Please have your team rep or coach request a practice day.
Practices Duration: 2 hour practice included, 1 day a week
---
Coaching:
Skyline Juniors coaches for the summer leagues will include some of our Skyline travel team coaches, local coaches, former players, and potential Skyline coaches. If your team provides their own coach, athlete fees are reduced to $270
---
Below is a link to the Upcoming Leagues. Please check back as this list is updated often.
Register Online Now for Leagues – click here
---
SaveSave