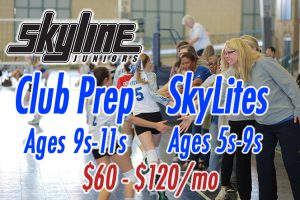 WELCOME TO SKYLINE AND OUR YOUTH PROGRAMS
Skyline's Youth Training Series
3rd – 6th Grades
July – August
Free to the public July 18, 2022 through Aug 11, 2022
90-minute training session twice a week every week
Free Training sessions begin July 18, 2022
Free sessions conclude Aug 11, 2022
Club Prep Academy
4th-6th Grades
September – April
90-minute training session twice a week every week
Practices begin September 27, 2021
Practices conclude in April 16, 2022
Three (3) Club Tournaments included December – April
December Break & Spring Break Off
September-November: Mondays & Thursdays, 4:30-6:00pm
December-April: Tuesdays & Fridays, 4:30-6:00pm
Club Prep Program Cost
$120 per month until April (Start anytime)
Payment
Monthly subscription, charge credit card every month
You may cancel or pause subscription at any time (within iTeamApp)
You will also need to create an account on ITeamapp.com at registration if you do not already have one.
Coaching Staff
Paxton Wade – Director of Youth Volleyball, 15 Black Head Coach, 14 Royal Assistant Coach
Amber Spencer – 12 Royal Head Coach, Former College & Pro Middle Blocker, 15th year coaching
Other Skyline National team coaches will help/fill in as necessary!
*If you have a player who is interested who is younger than 8-9 years old, please contact us. We are gauging our interest in putting together a First Touch Program as well.
What is "SkyLites" Program
Skyline Juniors Volleyball Club offers a Training Program for players 6-8 years old. Training by Select/Club coaches to teach and train the correct fundamentals and prepare kids to enter our Club Prep Academy at 9 or to play their 11s or 12s ages of club volleyball.
September – November – Thursday's 4:30 – 6:00 p.m.

December – April – Friday's 4:30 – 6:00 p.m.
For more information, please email clubprep@skylinejuniors.com
SaveSave