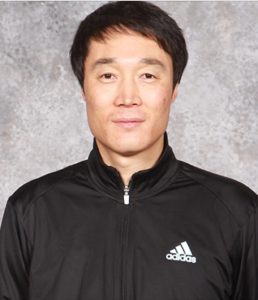 Skyline would like to welcome Sangyong Yun to our Coaching Staff for the upcoming 2018-19 season! Coach Yun joins us from ARVC where he has been coaching the last 11 seasons. There he has led his last seven teams to Open Nationals, with his best finish of 5th 14 Open division of GJNC.
Coach Yun has an extensive coaching and playing background leading him to where he is today. He began playing volleyball as a young athlete , competing in the Junior World Championship in Dubai. He continued on to play in college at Sung Kyun Kwan University where he was named MVP and at the World University Championships. He then played on the Korean Men's National team, competing in the Senior World Championships. He turned professional in 1992 when he played on both Korea's and Kuwait's Professional Volleyball League.
Coach Yun began coaching over 15 years ago. He coached at Cibola High School and was named Coach of the Year in 2013. He is now recognized as one of the best trainers and club volleyball coaches the nation.
SaveSave