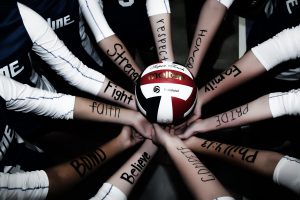 Congrats and Welcome to the Skyline family!
The below information is for players that are offered a position on a Skyline club team in the month of July during the NTR's "Evaluation Period" (July 5-28).
There are a few things we need everyone to do prior to the official Acceptance (Signing) Day.  The North Texas Region (NTR) of USA Volleyball is the governing body of Club Volleyball for the Dallas area.  In 2018 the NTR is implementing the Online Commitment System (OCS) to help communicate and track offers and acceptance for club teams.  This system is important to help enforce the recruiting policies that help protect for the families and clubs.
Acceptance (Signing) Day
Saturday, July 21, 2018 for 15s-18s teams
Saturday, July 28, 2018 for 10s-14s teams
PRIOR TO ACCEPTANCE DAY:
I have been offered a spot on a Skyline team, what do I do next?
Communicate Quickly and Clearly to your Coach or Skyline Administration that you accept the offer and your daughter is 100% in for the team offered.
Verify you are receiving emails from the OCS server | Click Here to Verify your Email
If you did NOT play in North Texas region of USA Volleyball last year, then you will need to add your daughter to the OCS database | Click Here to add player to OCS

If you played on a NTR club team last year, then your name is already in the database… you do NOT want to create a duplicate record of your daughter
Skyline Admin will let you know if your daughter is not in the OCS prior to Acceptance day.

i-Skyline account | Create an i-Skyline account or Log into your existing account and make sure you "Skyline Juniors" or "Dallas Skyline Juniors" is selected as your CLUB NAME in the Status Page. | Click Here to go to i-Skyline
ON ACCEPTANCE DAY:
Between 2am & 6am, you will receive an Offer from the OCS from "No Reply" (offers@ntr.vstarvolleyball.com)
The title of the email will be similar to "Offer from NTR Club"
Click the Link in the email
Accept the Offer
Sign the Skyline/Athlete Agreement (link to agreement will be in offer email).  You can sign the agreement from a phone or computer (no printing needed).
Make the $800 initial installment (min $20 required).  If your daughter's name is not in the drop down by team, then follow step #4 above about i-Skyline account.
That is all.
If you have any trouble, please call us at (972) 675-1448.
The Below Extensions will forward to our mobile phones
Ext. 101   Cara Synatske
Ext. 103   Heidi Johnson
Ext. 105   Jodie Rye
Ext. 110   Jon Rye
VOLLEYBALL TRAINING DURING THE FALL
For all Skyline athletes, we will be offering Weekly Training Sessions at no additional cost.  Every Sunday & Wednesday in September & October and every Sunday in November will be the Training Sessions led by some of our top coaches (Amber, Mark, Coach Yun, & Nicki).  We do ask that you RSVP for each session through the link in your iSkyline Account (not EventScheduler) so we know how many athletes to expect and we can staff accordingly.