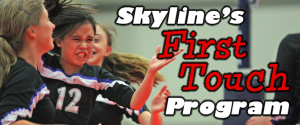 What is "First Touch" Program
Skyline Juniors Volleyball Club offers a Training Program for players 6-8 years old. Training by Select/Club coaches to teach and train the correct fundamentals and prepare kids to enter our Club Prep Academy at 9 or to play their 11s or 12s ages of club volleyball.
Overview
January – May: Friday Evenings
June – December: Thursday Evenings
60 minute Sessions are offered every week
Cost is $60/month for 1-session per week
Session Times?
January – May: Friday Evenings, 4:30-5:30pm at Skyline Sports Shack
June – December: Thursday Evenings, 4:30-5:30pm at Skyline Sports Shack
Cost: $60/month
---
To Schedule your session:
First Time Athletes, please sign up on our EventScheduler in order to let us know you are coming.
Click Here to Sign Up for your First Touch Session