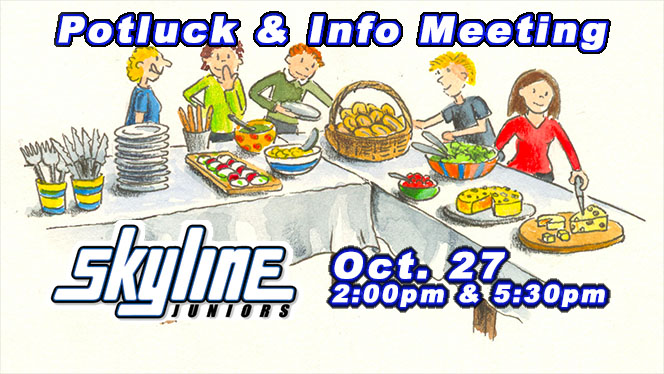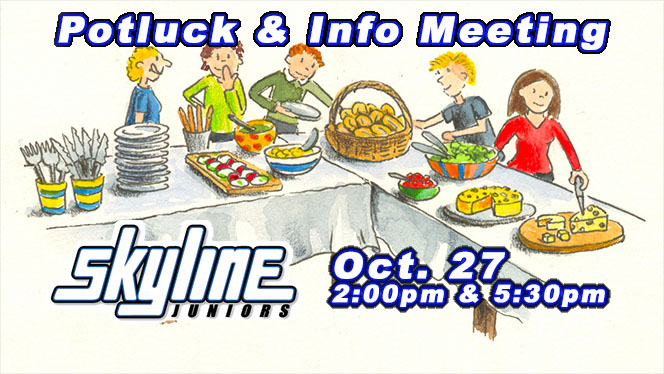 Sunday, October 27, 2019
2:00-4:00pm
See Team List Below and on Team Calendar
5:30-7:30pm
See Team List Below and on Team Calendar

Skyline Sports Shack
900 Stewart Ave.
Plano, TX 75074 
Pease make sure that at least one parent/guardian is in attendance.
what to bring….

– Review the Athlete Handbook (view in i-Skyline account)
– Bring a copy of Athlete's Birth Certificate
– Print, Sign, Bring USAV Medical Release (download Med Release)
– Pen
– Bring your own drinks and a serving utensil for your food dish
– Soft drinks, gatorade and bottled water will be available for purchase.
* if you forget your forms, we will have forms at meetingWe will have all of our spirit wear available to purchase at the potluck, so make sure you come ready to get spirited out and support our Skyline athlete's throughout the year! We have some exciting new designs and will have car decals available for order. All the proceeds from the Skyline Orders will go towards the Scholarship Fund. We will also be taking donations for the Scholarship Fund via credit card, check, or cash.We are also in need of Work Program helpers for the potluck.Click HERE to sign up to work.
TEAM

WHAT FOOD TO BRING

TIME

18 Nat'l Royal
Main Dish to serve

10

5:30pm
18 Nat'l Black
Main Dish to serve 10
5:30pm

17 Nat'l Royal

Dessert to serve 10
5:30pm

17 Nat'l Black

Side Dish to serve

10

5:30pm

16 Nat'l Royal

Main Dish to serve

10

5:30pm

16 Nat'l Black

Dessert to serve

10

5:30pm
16 Molten Royal
Side Dish to serve 10
5:30pm

15 Nat'l Royal

Main Dish to serve

10

2:00pm

15 Nat'l Black
Dessert to serve 10

2:00pm

15 Molten Royal

Dessert to serve

10

5:30pm

15 Molten Black

Side Dish to serve 10
5:30pm

14 Nat'l Royal

Main Dish to serve

10

5:30pm

14 Nat'l Black

Dessert to serve 10
5:30pm
14 Molten Royal
Main Dish to serve 10
5:30pm

14 Molten Black

Side Dish to serve

10

5:30pm

14 Molten Silver

Side Dish to serve

10

2:00pm

13 Nat'l Royal

Main Dish to serve 10

2:00pm

13 Nat'l Black

Main Dish to serve 10

2:00pm

13 Molten Royal

Dessert to serve 10

2:00pm

13 Molten Back

Side Dish to serve 10

2:00pm

12 Nat'l Royal

Dessert to serve 10

2:00pm

12 Nat'l Black

Side Dish to serve 10

2:00pm

12 Molten Royal

Main Dish to serve 10

2:00pm

11 Nat'l Royal

Dessert to serve 10

2:00pm

11 Nat'l Black

Side Dish to serve 10

2:00pm

10 Royal

Main Dish to serve 10

2:00pm