COVID-19 Update
May 9, 2020
Thank you for your interest in the Adidas Spring Fest. We have decided to cancel the Adidas Spring Fest tournament that was rescheduled to June 6-7. The Texas Classic Bid event has been reschedule to the same weekend. If you would like to request to move your entire entry fee to the Texas Classic event, please follow the steps below…
To move registration to Texas Classic Bid event:
Register for the Texas Classic online but do not pay
Email info@skylinejuniors.com and let us know what teams you want to move your entry fees from Adidas Spring Fest to cover.
If your club is from outside the North Texas Region, I'm sorry as your team is not allowed to participate in the Texas Classic as it is reserved for NT teams only.
On May 20 we will proceed to refund all the clubs $285 per team in accordance with region policy.  This will give you over a week to decide if your want to move your teams to the new event.  
To expedite the refund process…
Log into your Club account and drop your team(s) from the Adidas Spring Fest. This will result in your team status being updated to "Dropped-Paid".
We will process refunds to clubs on Wednesday of every week via echeck. We will contact the club director on file in Vstar to confirm correct email address and who to make the check payable to.
If you have any questions, please contact us at info@skylinejuniors.com
April 7, 2020
We have reschedule the Adidas Spring Fest for June 6-7, 2020. If your teams are not able to compete on the new weekend, you may drop your team from the event when the region posts the revised schedule online.
---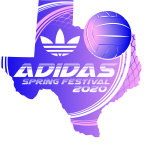 Event Information:
Registration End Date: n/a
Registration Link:
Click Here
Tournament Type: 2-Day – Pool & Playoffs
Guarantee: 10 Sets
Divisions: 11s-18s
---
Site & Location Information:
Sites & locations will be posted here on June 23, 2020.  We will not decide on sites by division until the tournament registration is closed.
You can plan on a playing location to be within 2-3 miles of 900 Stewart Ave. Plano, TX 75074
Facilities used for this event:
click here to see addresses and directions to facilities
click here for facility information
Tournament Schedule:
The tournament Schedule will be posted the Tuesday prior to the event on VstarVolleyball.com
---