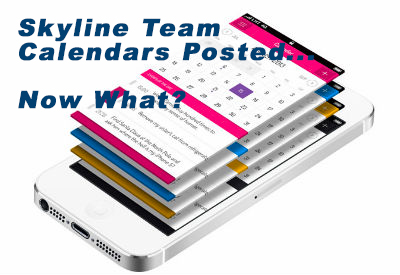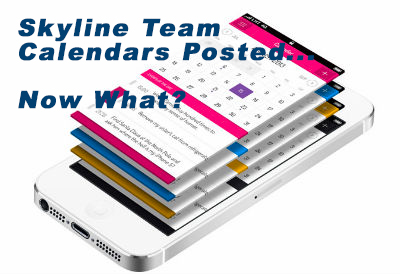 On October 29, 2023 we posted…
Established Calendars for each Skyline team.
Thanksgiving & Christmas Holiday Schedule
Practice Schedules for all teams
Tournament Schedules for all teams
This post is to inform parents what they should do next…
You can view the team calendars from the Skyline website top menu labeled CALENDAR

The left menu will have a list of all the teams/calendars
You may filter the teams to only show your team OR all the teams

Subscribe to the Calendar Feed for both your Team calendar and "Skyline Club Events" calendar

If you have an iPhone, view this 2-min video on How to Add/Delete Skyline Team Calendar
On the Skyline Website Calendar Link, are instructions for how to add the Team Calendar Feed to many devices
You will need the URL to add your team's calendar feed (Subscribe to Team Calendar page)
Be sure to Subscribe to the calendar feed, DO NOT click on the feed link as it may add the current events and not update your devise of changes to the schedule

If you have repeating major conflicts with your team's practices, please notify your coach of the repeating conflicts.

Please do not notify Skyline admin of practice conflicts as there may be many conflicting request for your team.
Head Coaches will manage all repeating major conflicts.  We have asked the head coaches to manage conflicts in the following manor…

Determine if the conflict is a "Preference" or a "Must Move" situation
Evaluate if the change would cause additional conflicts with the rest of your team before forwarding to admin
Do your best to make the current schedule work
If the team must move then submit the request to Skyline admin
We have been through many versions of the practice calendar at this point and we do not have much room for adjustments.  Please understand at this point we say NO to more requests than we say YES to, but we will endeavor.
Every request we accommodate will impact at lease one other team if not more.